Contact Iron Horse.


Make your wildest dreams for your network come true!


Happy Cinco de Mayo!


*Don't try this in your own office. If you feed your office dog a meal like this one, you will have to implement your disaster recovery plan. Do you have a plan in place? If not, call us. Or, we can send Beowulf over and you will see why you need one.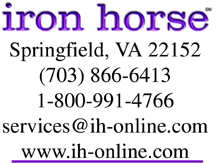 ©2009 Iron Horse